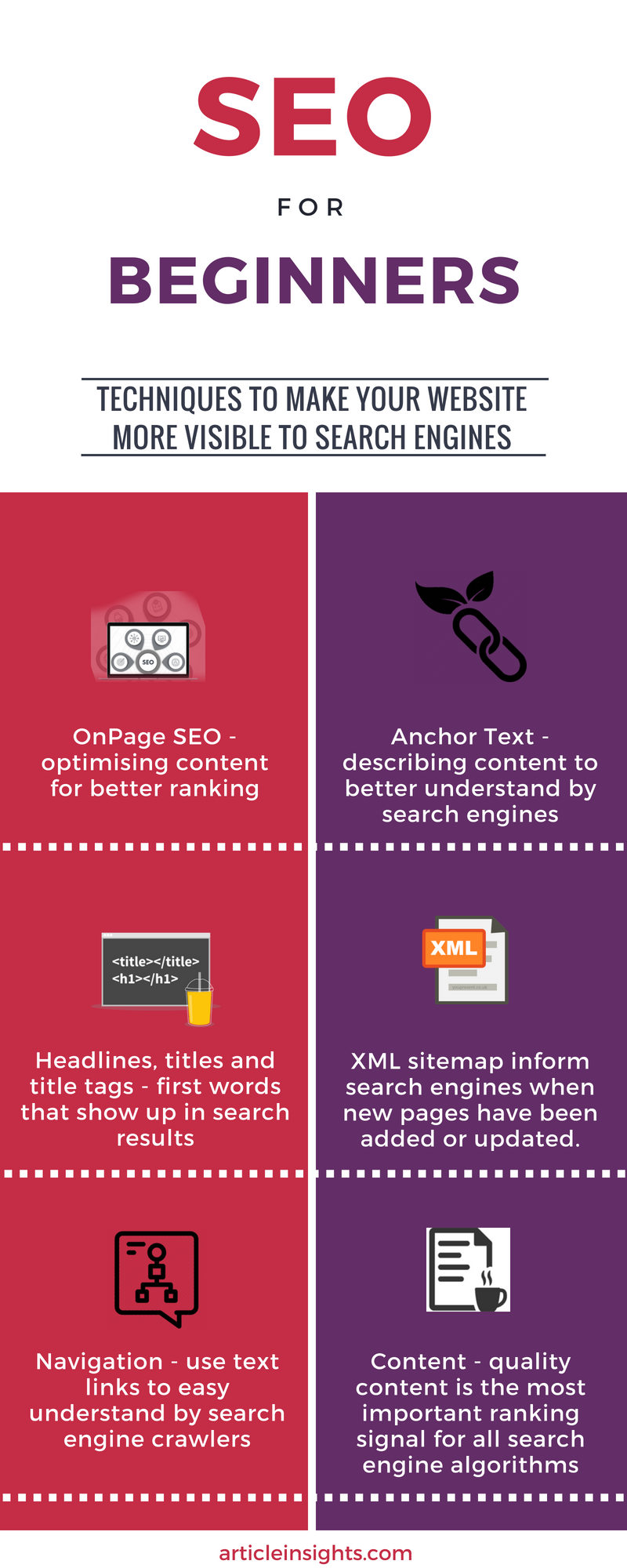 SEO Tips for Beginners
SEO stands for Search Engine Optimization in which your website and its content is being optimized for a better results in google. Your business website is being indexed by the search engines and can provide searchers with the most relevant results based on their search terms. These listings are known as organic search results.
OnPage SEO
The best part of the website is its content. Most people gets more interested in the body of your article as it is the main focus of every researcher. Content may be written articles, videos, infographics, graphics etc. These are all the elements on your web page that you can control in order to make it visible to search engines. The use of a search engine friendly URL with relevancy to the content, good internal linking, fast loading pages, logical and clear navigation are the factors that affect your efforts in website rankings.
Anchor Text
Anchor text helps search engines better understand your content as it provides description of your content. This is very useful for users when you added links to a piece of text, it may be your keyword or long tail keywords to support your text and link to a related article within your webpage or another webpages.
These tags are important to include keywords in it for these are the first words that show up in search results. Stick up to 65 characters and avoid making them too obscure or meaningless.
Need Help Optimizing Content For SEO?
Analyze your articles for free.

We value your privacy and would never spam you
XML Sitemap
It is a document hosted on your website's server which helps every page of your website to be listed in search engines. If new pages have been added or updated. It's a way for webmasters to inform search engines when new pages have been added or updated.
WordPress site doesn't need to create this document as a Sitemap is automatically generated and regularly submitted to search engines for you.
It is important to use text links for navigation of your website. Animation or images are not easy to understand by search engines crawlers so these are not suggested to use as navigation. They find text links more understandable. Make a naturally flowing hierarchy for easy journey of general site information to more specific information
Content
The quality of your content is the most important ranking signal for all search engine algorithms. Its always be the content that makes your website rank on google. So when creating a content, make sure that it is relevant, good, helpful for the users, and all your SEO practices won't be wasted and will help you in the long run. No matter how frequent Google's algorithm is changing, you can assure that having a great content will always be the top priority.