This is the article insights complete users guide. You are not required to read this from tip to toe but you should jump to the sections that you are most interested in.
This guide will thoroughly explore every nook and cranny of the app and teach you how to get 100% out of its myriad of features.
Create article
The first area Article Insights can help you with is planning out a new article.
New analysis
The first step is to enter the keyword or title of the article for analysis.
Need Help Optimizing Content For SEO?
Try Article Insights for free.

We value your privacy and would never spam you
You should use an article title as the analysis will be much more accurate.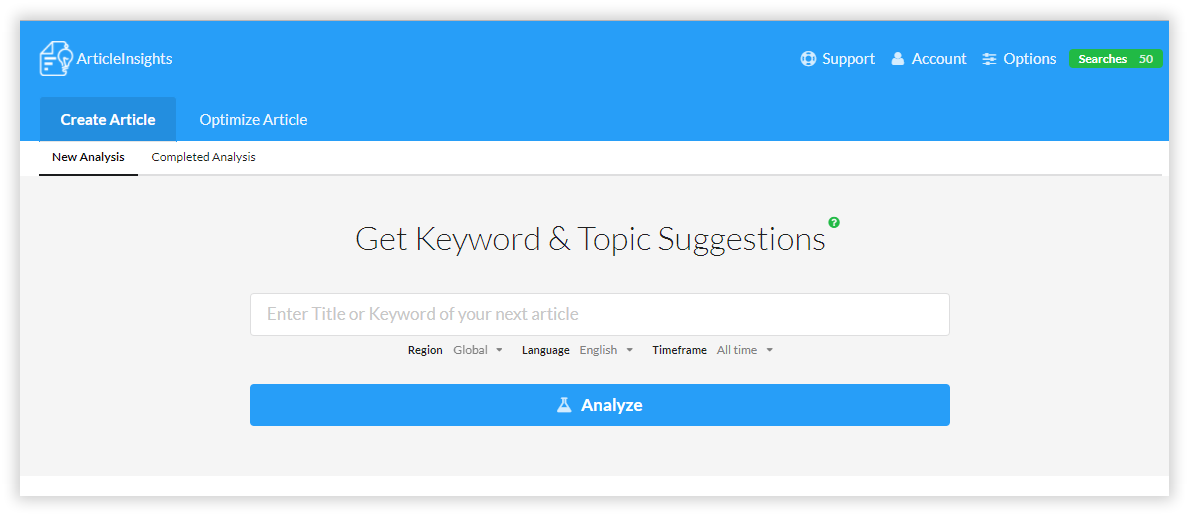 If you are new to the app, click on the green "?" to view a walkthrough.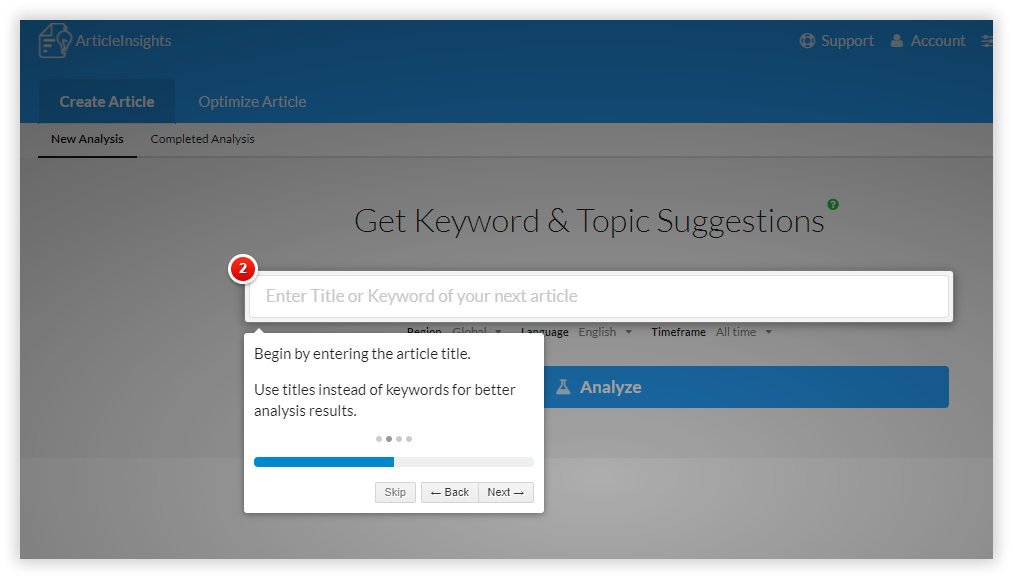 Analysis options
To better improve the analysis results you can tweak the region, language and time frame. If you are new to Article Insights, the default options work fine.
Region & Language
The most important setting will be region and language options.
By default it assumes your article is English.
Article Insights supports the following languages:
English
German
Spanish
Portuguese
French
Polish
You can also drill down any specific country region.
Timeframe
If you want the analysis to return keywords and topics that are more recent, you can change this in the timeframe.
By setting it to as recent as an hour or day, you can selectively analyze content that is new and align your content with trending topics.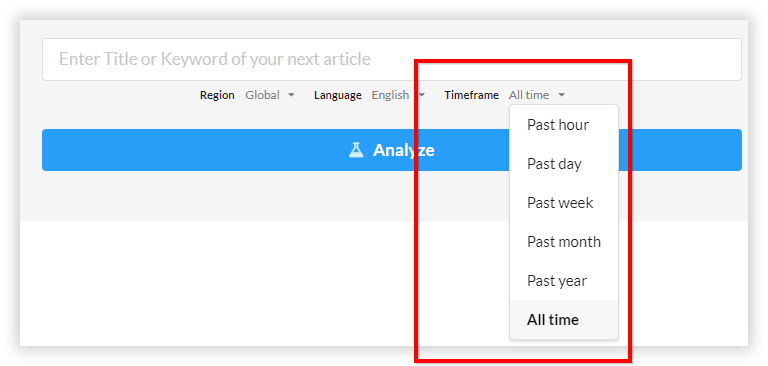 Completed analysis
A list of all your previous analysis results are displayed in this tab.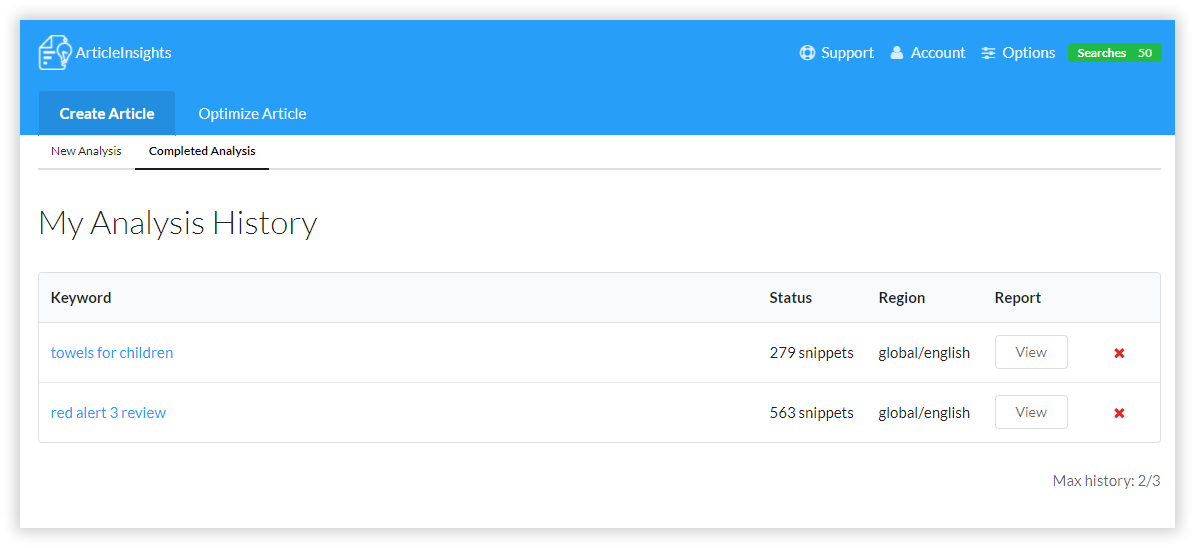 If you entered multiple keywords/titles, Article Insights will queue the analysis. You don't have to wait for a keyword to finish before adding a new one.
You are limited by how many keywords are available in your history, the limit is shown as "Max history".  To increase the limit you need to upgrade your account.
Older items are deleted automatically to make room for newer items.
Article analysis
Article Insights will provide for you the top 25 most important article terms to target, as well as group keywords together and build a suggested article outline containing topics.
Article performance
Your article is graded based on 4 areas. A perfectly optimized article will score 100.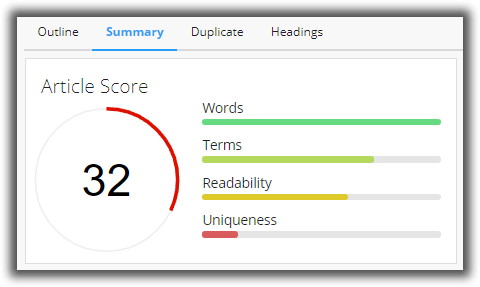 Below the article score is your "must have keywords" box that shows 25 most important words you should use in your article.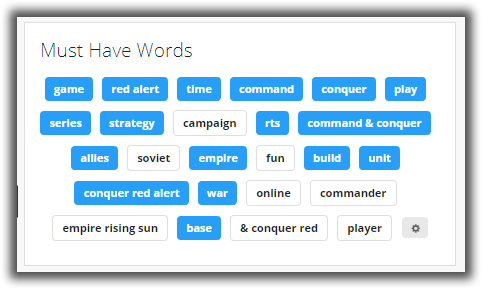 As you write your article the must have words will change color based on how many times it is used in the article.
Keyword content research
You can click on any of the 25 keywords to open up a list of research.
From here you can easily see what other people have written about using the keyword.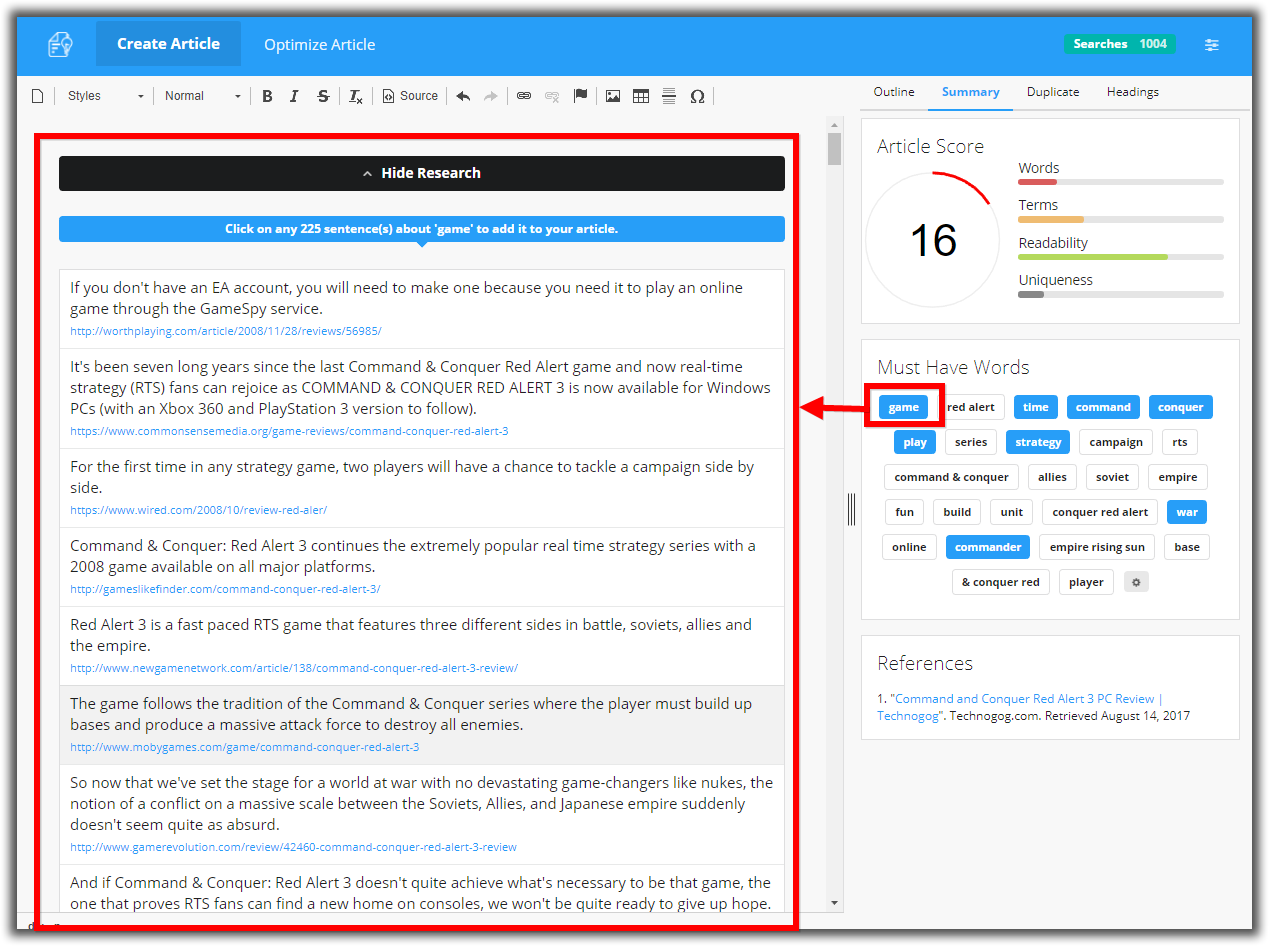 By clicking on any sentence above, it will add it to your article as a reference.
Tracking keywords density
It is very important that you don't over use the same keywords again and again.
Low quality content, tends to over use the same keywords and can attract over optimization penalties in search engines.
In the app, keywords are colored like traffic lights.
Blue = good, yellow = ok, red = over used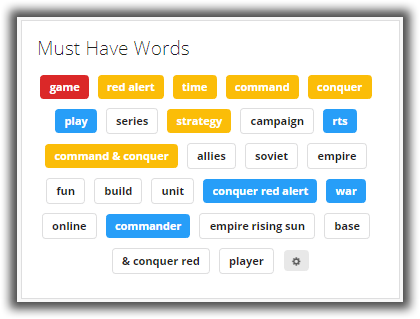 Any red keywords should be replaced with a suitable synonym in your article.
Custom keyword targeting
The "must have" keywords list can be customized, each project comes with a total list of up to 250 keywords. You can even add your own keywords.
Just click on the gear button...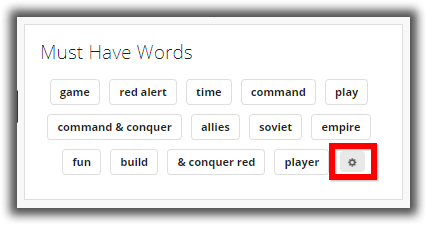 and the keyword list pane will appear on the left hand side.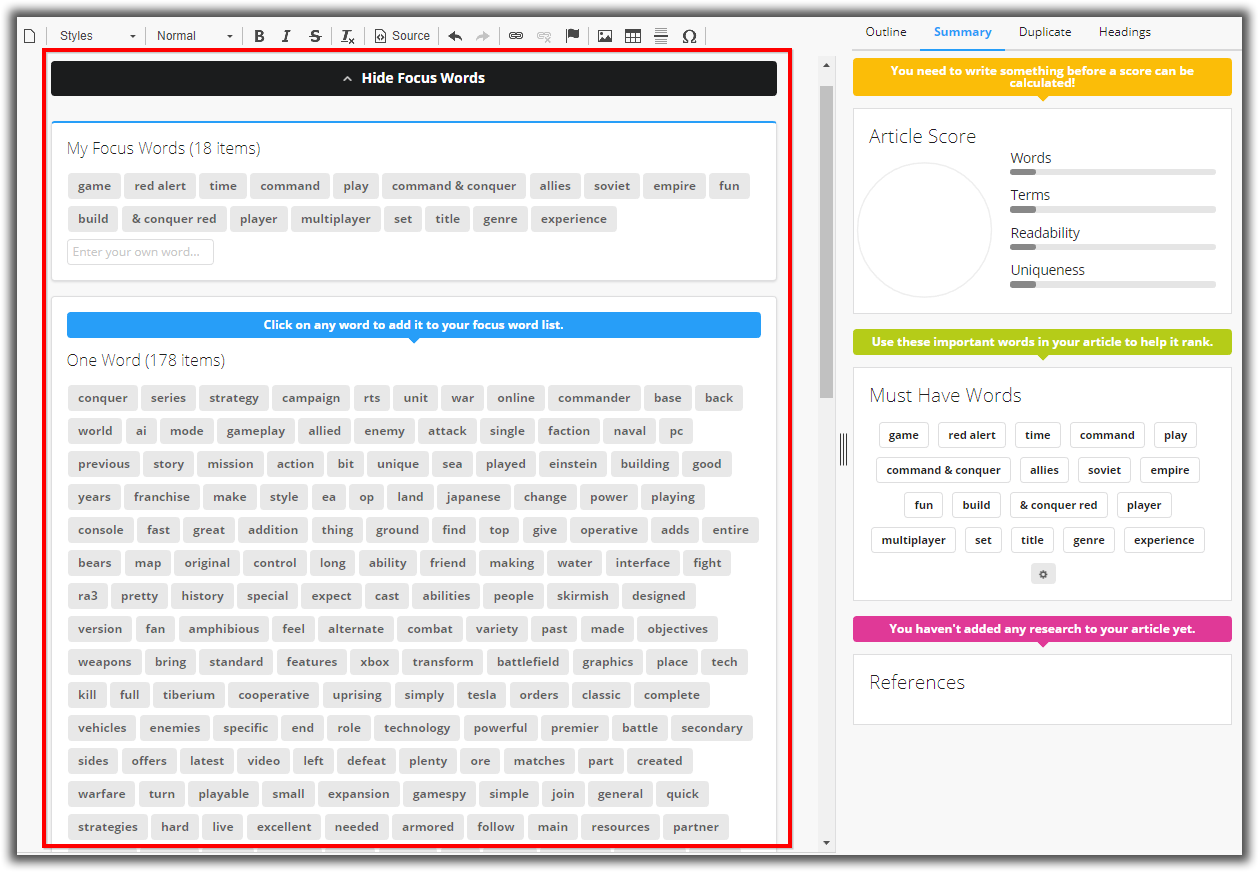 Click on any word to add or remove it from your "must have" word list.
You can also enter your own keyword in the textbox. Press enter to add it.
Suggested article outline
Article Insights analyzes content and groups keywords into article topics for you. This information is displayed in the Outline tab.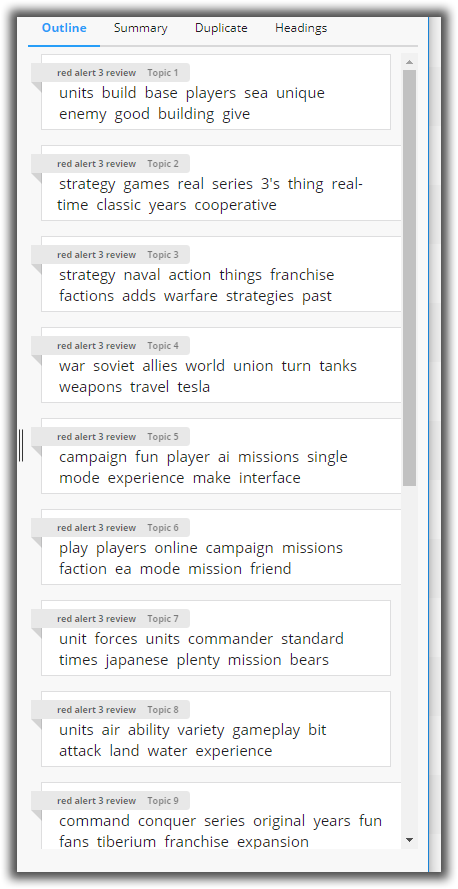 Each topic consists of a bag of words describing it. There are 15 topics.
Topic research
You can click on any word in a topic to get a list of research filtered by that word for that topic. You can also click on the topic header to see all research for that topic.
Detecting duplicates
As you write, the app will compare your text and highlight in red anything that has been detected as content already existing on the internet.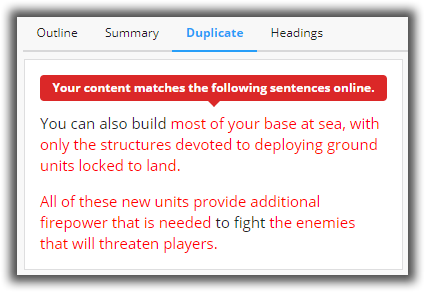 View article references
As you click on research and add it to your article, the app will build a reference list for you.
The reference list displayed wikipedia style.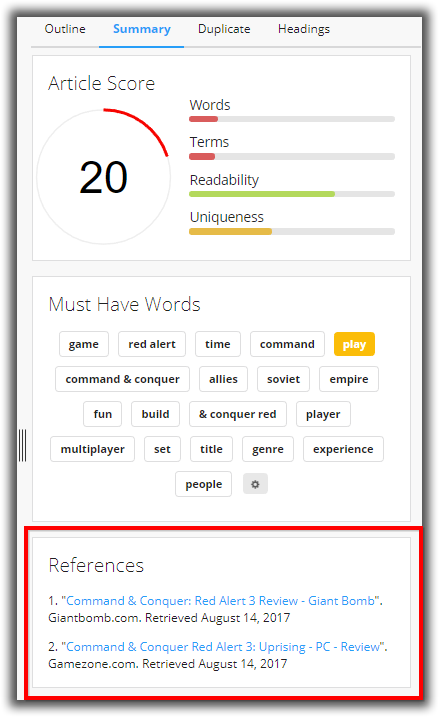 Headings Research
The article creator tool ships with a handy list of headings and titles that was discovered on the internet.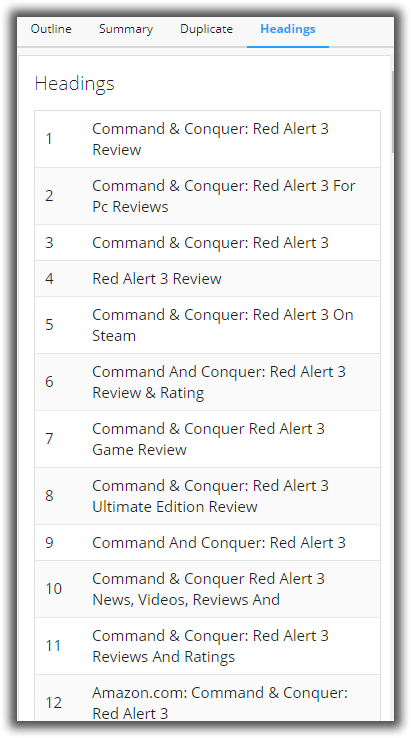 Looking for an easy way to write optimized SEO Content? Try Article Insights for free (no obligation).