We can see a lot of information about SEO and learn about it to apply in our websites. Most of them we believed could help us but in the long run, they make no sense.
Here we will talk about the most SEO beliefs of all time.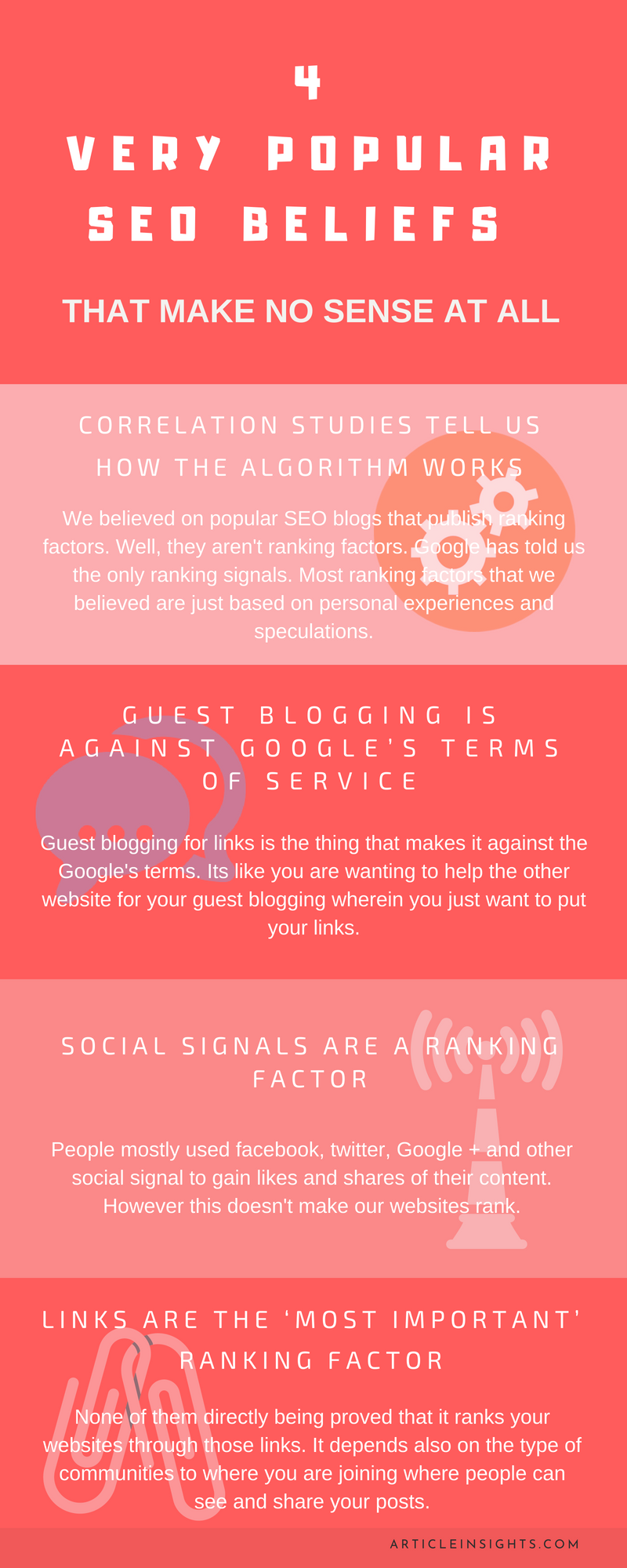 Correlation Studies Tell Us How the Algorithm Works
We believed on popular SEO blogs that publish ranking factors. Well, they aren't ranking factors. Google has told us the only ranking signals. Most ranking factors that we believed are just based on personal experiences and speculations. These lists of "ranking factors" are actually lists of how much certain things we can measure based on publicly available data are correlated with rankings. The best way to identify what improves rankings is to identify specific strategies, put them to use, and measure the results. If that strategy consistently causes your rankings to increase, it is a strategy you should continue using.
Guest Blogging Is Against Google's Terms of Service
There is only few left now who do the guest blogging and that is because the believed that it is against Google's terms of service. In fact its not. Guest blogging for links is the thing that makes it against the Google's terms. Its like you are wanting to help the other website for your guest blogging wherein you just want to put your links. Why not just use your website to spread the word.
Need Help Optimizing Content For SEO?
Try Article Insights for free.

We value your privacy and would never spam you
Social Signals Are a Ranking Factor
People mostly used facebook, twitter, Google + and other social signal to gain likes and shares of their content. However this doesn't make our websites rank. If you make compelling content, people will link to it, like it, share it on Facebook, +1 it, etc. But that doesn't mean that Google is using those signals in our ranking. Social signals only our websites to build relationships with influencers who can directly and indirectly improve your SEO authority in other ways.
Links Are the 'Most Important' Ranking Factor
Truly it is believed that links are the most important factor in ranking, but it is said in this texts that there is no any ranking factor. We use several links in our posts, in content and even in the descriptions. However it helps our brand to be known by other people in different categories and niche. None of them directly being proved that it ranks your websites through those links. It depends also on the type of communities to where you are joining where people can see and share your posts.
The belief that links are the most important ranking factor has:
Gotten a lot of people penalized.
Encouraged them to do only the bare minimum of keyword research.
Caused them to completely miss out on the value of long tail.
Downplayed the importance of content.
Missed the mark on title tags and search snippets.
Created a great deal of SEO spam that I and others like me have repeatedly outranked with very few links, no "optimized" anchor text, and no real "link building."
Source: https://www.searchenginejournal.com/seo-beliefs-that-make-no-sense/260533
Looking for an easy way to write optimized SEO Content? Try Article Insights for free (no obligation).