This is the article insights complete users guide. You are not meant to read this top to toe, but jump to the sections that you are most interested in.
This guide will thoroughly explore every nook and cranny of the app and teach you how to get 100% out of its myriad of features.
Add a keyword / title
The first step is to add the keyword or title of the article.
Recommend you use title as it will be a much more accurate analysis.

If you are new to the app, click on "Show me" to view the walk through

Analysis options
You can analyze your next article using a couple of important options.

Click on the "gear" icon to view the advanced options.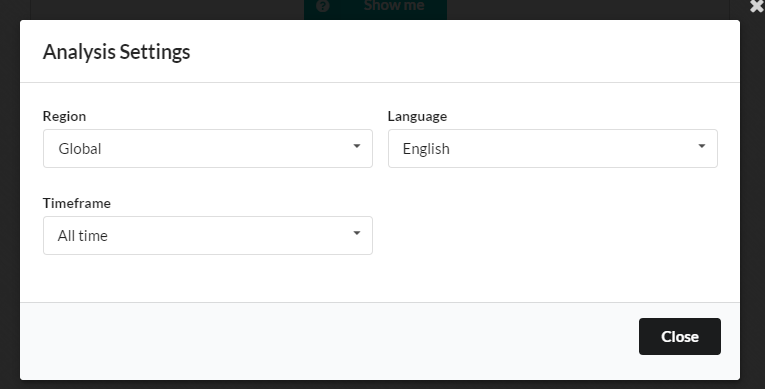 Region & Language
The most important setting will be region and language options.
By default it assumes your article is English.
Article Insights supports the following languages:
English
German
Spanish
Portuguese
French
Polish
You can also drill down any specific country region.
Timeframe
If you want the analysis to return keywords and topics that are more recent, you can change this in the timeframe.
By setting it to as recent as an hour or day, you can selectively analyze content that is new and align your content with trending topics.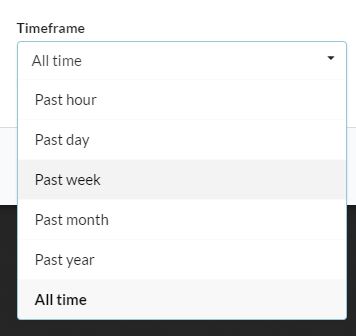 Keyword history
A list of all keywords that have been analyzed.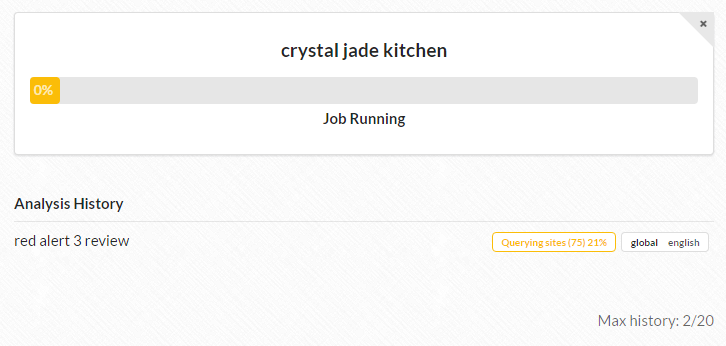 You can queue multiple keywords up for analysis. You don't have to wait for a keyword to finish before adding a new one.
You are limited to how many keywords are saved, the limit is shown as "Max history".  To increase the limit you need to upgrade your account.
Older items are deleted automatically to make room for newer items.
Export Content
You can download the content and keywords for a keyword to your hard drive if you want.

The option appears when you mouse over the keyword row.
Content analysis
This screen is where all the action happens. It is divided into 2 main areas.
Article performance
Your article is graded based on 4 areas. A perfectly optimized article will score 100.

On the right hand side the article keywords shows you the top 25 most important words you should use in your article.
If you want a full explanation you can click on "Show me how to optimize" to view a walk through.
Keyword content research
You can click on any of the keywords in the article keyword box to see a list of content other sites have written about that keyword.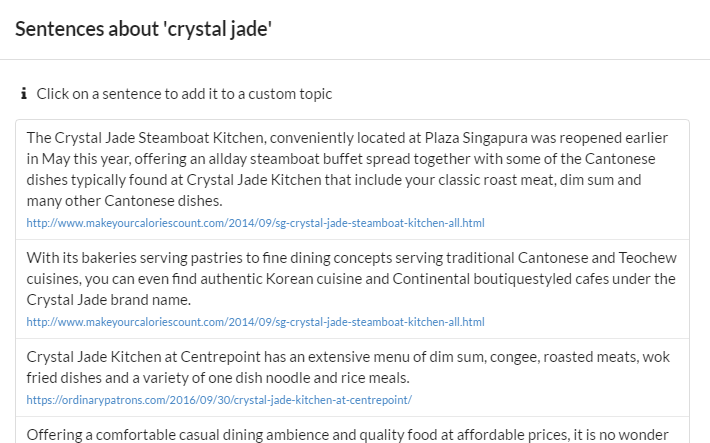 Tracking over use of keywords
It is very important that you don't over use the same keywords again and again.
Low quality content, tends to over use the same keywords and can attract over optimization penalties in search engines.
In the app, keywords are colored like traffic lights.
Green = good, yellow = ok, red = over used

Any red keywords should be replaced with a suitable synonym in your article.
Custom keyword targeting
The keywords listed here can be customized.
Just click on "..."
To get this window.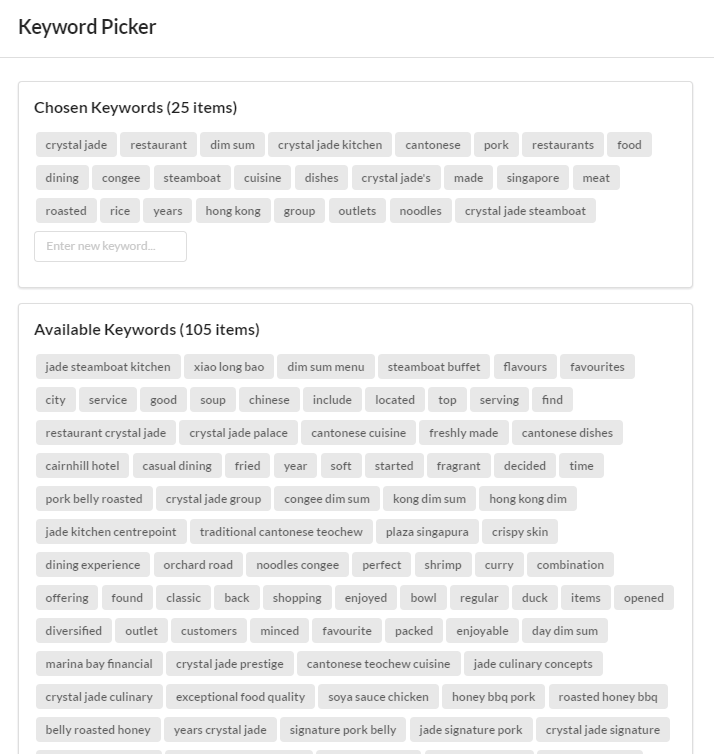 Click on a keyword to add/remove it from the chosen keyword list.
You can also enter your own keyword in the textbox. Press enter to add it.
Article topics
Article Insights can group keywords into article topics for you.

The grouped keyword appears at the top of the topic. By default you get 10 topics.
Topic research
You can click on keywords and the research button to see what others have wrote (highlighted in red).

Clicking on the research button will show you all sentences that are about that topic. Clicking on a keyword will filter sentences of that topic that use that word.
The research window shows sentences, by clicking on any sentence it gets added to the topic as research.
You can get info about a sentence at any time by clicking on the "i"

Optimize an existing article
You can optimize an already written article by using the paste article button.

It opens a simple window for you to paste in your article.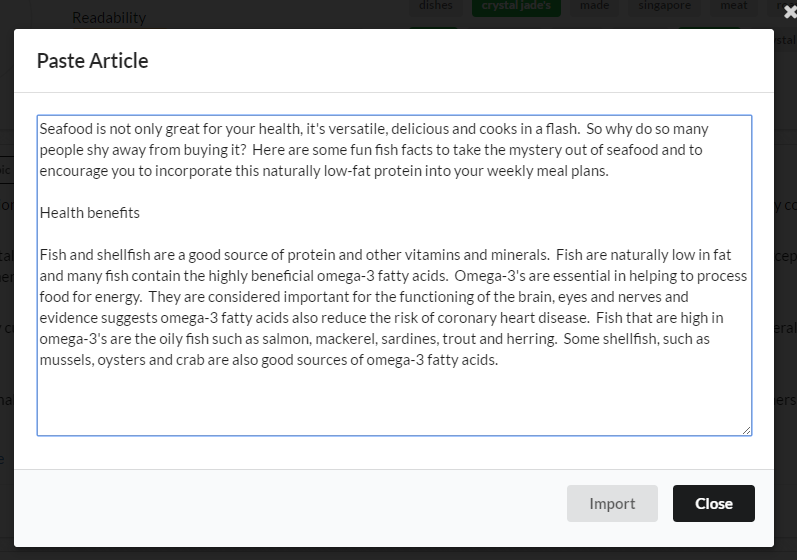 It will create a topic "Pasted Article" with the content of the article in there. The article performance rating will run on that content.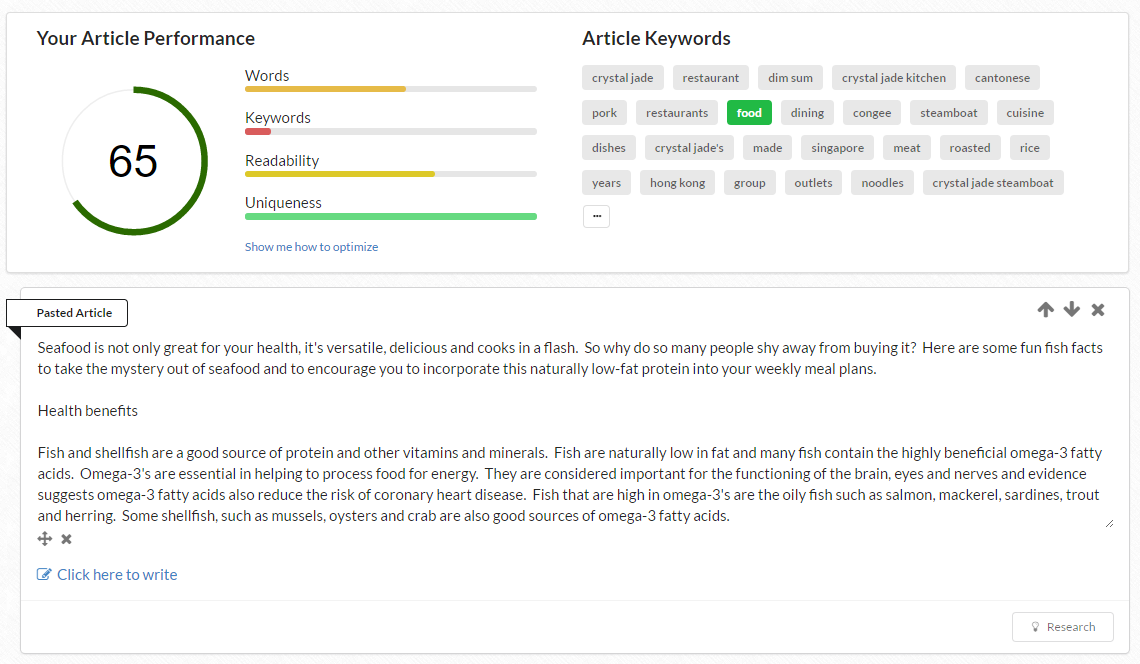 Suggest synonyms
Article Insights can help you re-write your article by suggesting synonyms for common words and phrases.

Your article will be sent to the re-writing screen.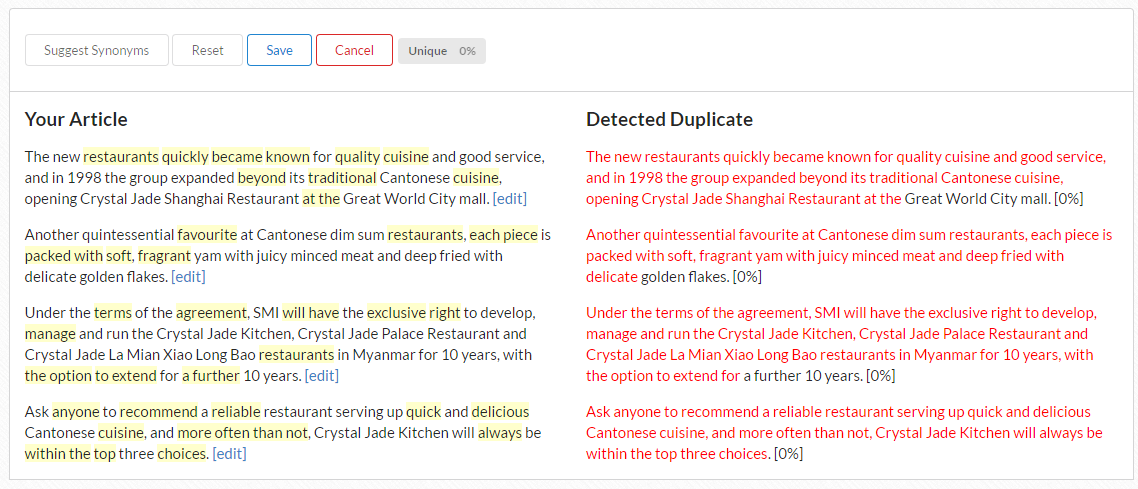 Selecting synonyms
Any word that is highlighted in yellow has a suggested synonym. Hover over the word see the replacements.

Click on a replacement to select it. Any word that has been replaced this way is highlighted in green.
Detecting duplicates
In addition to suggesting synonyms, on the right hand area it will highlight duplicate content.
As you write, the app will compare your text and highlight in red anything that has been detected as content already existing on the internet.

The percentage shows how unique your content is.
To fix this, re-write the content on the left hand side. Click on the [edit] link to enable the textbox editor.
Click outside the textbox to save your edit.

View article references
As you click on research and add it to your article, the app will build a reference list for you.
To view the reference list, click on "Download Article" button.

The reference list is built wikipedia style.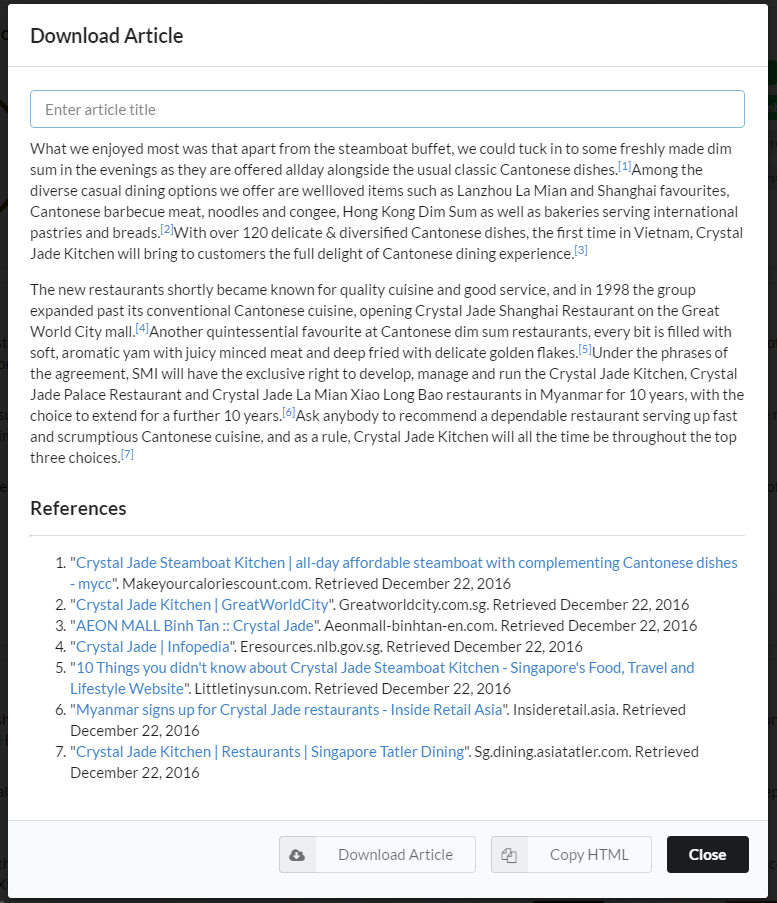 If you want to use the reference list as it is presented in the window, click on "Copy HTML". This will give you the source code of the article.
If you just want the article without the reference list attached, click on "Download Article".
Optimize using multiple keywords
You can optimize an article using multiple different keywords.
You can click on the current keyword to switch to a different keyword mid stream.
In this manner you could add 2 similar keywords and optimize for both in one article.