The secret to writing awesome local content
Creating great content is necessary for the success in local SEO. You may want your business to seen by every people in the internet and you want them to know what products do you offer. Unfortunately we practicing the wrong ways of promoting our products. Always keep in mind that a good quality content doesn't include selling. Personally I practiced the wrong way of promoting products in my content. It looks like I am selling directly to people and forcing them to buy my products. That has no good in SEO. People doesn't get any interest on any product, they always love free, and that's the reality. For example, you have a product that needs to be tested by people who needs tool in writing content. You should give them the free access for the trial. How are these people would patronize your product if they don't know what it is or what this can bring them. Exactly, people always wanted the results of the product before they purchase it. They don't want to take the risk of spending money to something that has not been tested. Sometimes they need to review first the product before getting it.
Another thing is that we usually put the specific location of our business so people can easily find it. Its not bad, but you must always think that its not the location that makes you rank in local search, its how you create your content.
Link to the article : https://searchengineland.com/secret-writing-awesome-local-content-255234
3 customer insights gained by keyword research
While doing your keyword search, you may encounter customer insights along the way which will help you more productive.
Need Help Optimizing Content For SEO?
Try Article Insights for free.

We value your privacy and would never spam you
Target audience
You are creating your business for your customers. Before we place our business we should know who are those people that will get in our products and show interests to. e should have the type of information relative to our audience. In that case people would know that this website is for them.
Areas of interests
Now that you know who your target audience is, you can be prepared on what is he getting from your website. Once people visited your page, that means for some reason, they found it interesting and can help them find what they are looking for. You can use the long-tail keyword in writing your content for your audience interests by including what other things your audience might be interested in.
Meet searchers need
Make your audience feel free to browse your pages and give them what they want. When they stay in your website for several minutes, you got their attention or they enjoy browsing to your website. That is good for your SEO. Always give your best shot once you create your content and think of you, if you were the audience, what else should I need that will keep me stay on this website.
Finding the right keywords to be used might be always changing depending on how you research for it. However, you might always keep in your mind that you need to reach out on this people so you would be able to know what type of people your target is, they're areas of interests and how you would be able to meet what really they want.
Link to the article : https://searchengineland.com/3-customer-insights-gained-keyword-research-278658
Creating quality content is an edge for a good SEO result. You always want your content being shared right? We all know that once our post get shared by other people, there is something in it that made them interested, and they want it to show on their site.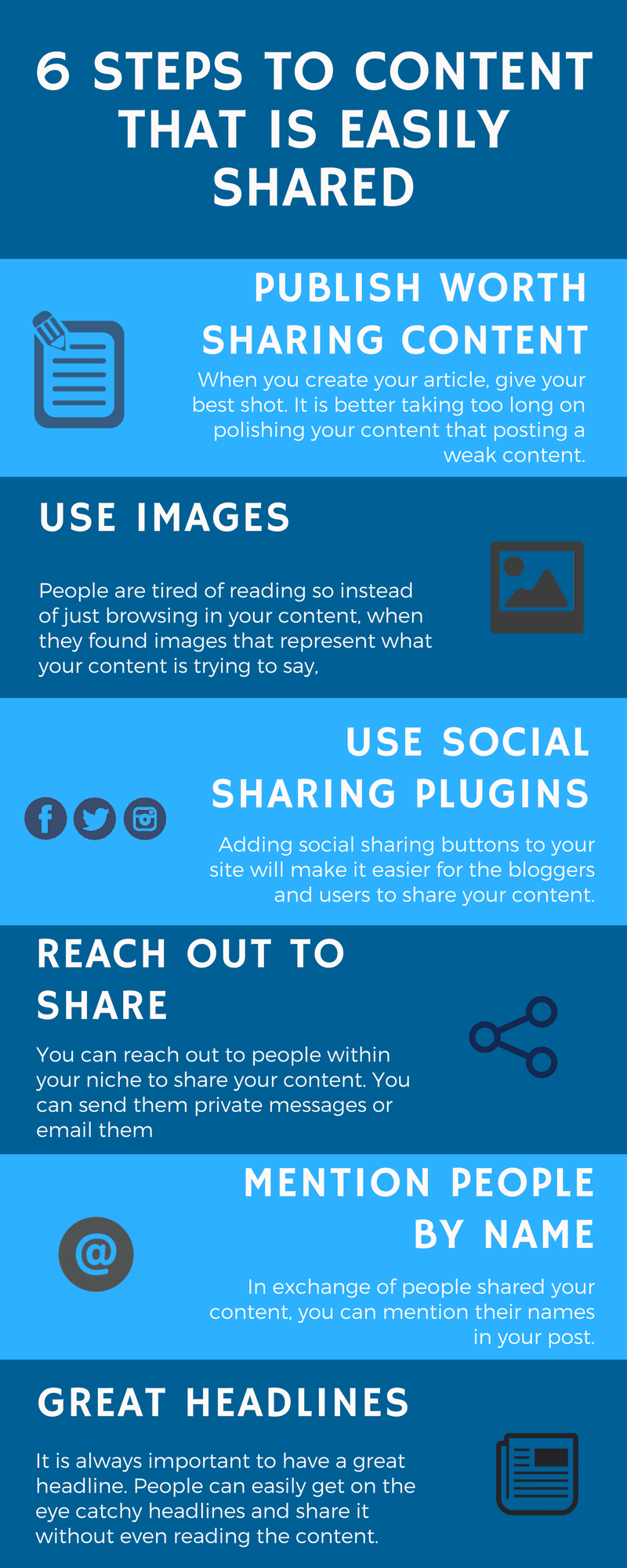 Only publish content that is worth sharing
Make sure that you post a good quality content. When you create your article, give your best shot. It is better taking too long on polishing your content that posting a weak content. Your audience may find your website uncompetitive when they found low quality content in your post. They can remember your site and possible of not going back again.
Use images
As we are always mentioning, graphics and visuals can attract viewers. Sometimes people are tired of reading so instead of just browsing in your content, when they found images that represent what your content is trying to say. They can pay attention of looking and clicking onto your site. Just create a very nice image that will tell readers what it is all about. Social media loves images and content sharing is the best thing happening in social media when in comes to promoting.
Adding social sharing buttons to your site will make it easier for the bloggers and users to share your content.
You can reach out to people within your niche to share your content. You can send them private messages or email them.
Mention people by name in your content
In exchange of people shared your content, you can mention their names in your post.
Write great headlines
It is always important to have a great headline. People can easily get on the eye catchy headlines and share it without even reading the content. That's the reality.
Link to the article : https://www.entrepreneur.com/article/280553
How to Link From Your Content to Build Leads and Connections
Everytime we create our web content, we usually put links to reference pages for further information about our business. Sometimes we give credits to those people who we think have related content on what we have to acknowledge their posts. Those links have a good  feedback to our business.
Here are a few ways to achieve more by linking out to external sources.

If you want those links clicked, phrase them accordingly
Use call to action button in your post to promote your content. You are using this to attract people on the give aways or other promos in your business. You can also use the text links to your website with this promotion caption.
Keep your links descriptive for usability and accessibility purposes
Use more descriptive words in line of your promotion caption. People will get easy on the eye when they see what they are going to get before hitting the link.
Link out for relationship building purposes
Linking your page to other pages will build relationship between businesses. It is nice being linked to each other because it shows social engagement. People love to be mentioned by other bloggers to thank them, share information and provide details.
Few tricks to turn your linking practices into a social relationship building tactic:
Find most active and responsive influencer on social media. They are more likely to share your content once they knew that you linked to them
Tag them by using social media tagging to let them know you referenced them
Make your alt tags more descriptive and mention the author's name, Twitter or IG account and website title in your post.
Link to the article : https://www.entrepreneur.com/article/293117/
3 Tips to Create Attractive Blog Posts
Creating a good content isn't enough if no one can see this. You need to have an attractive blog post for it to be seen by every people in the internet. It makes your business being shown on search engines and your products being talked by other people.
What do an attractive blog can make :
Increase social media engagement
Drive traffic from top-ranking blogs
Better rankings by leading on Google
Build trust on your brand
Here are the 3 tips to achieve an attractive blog posts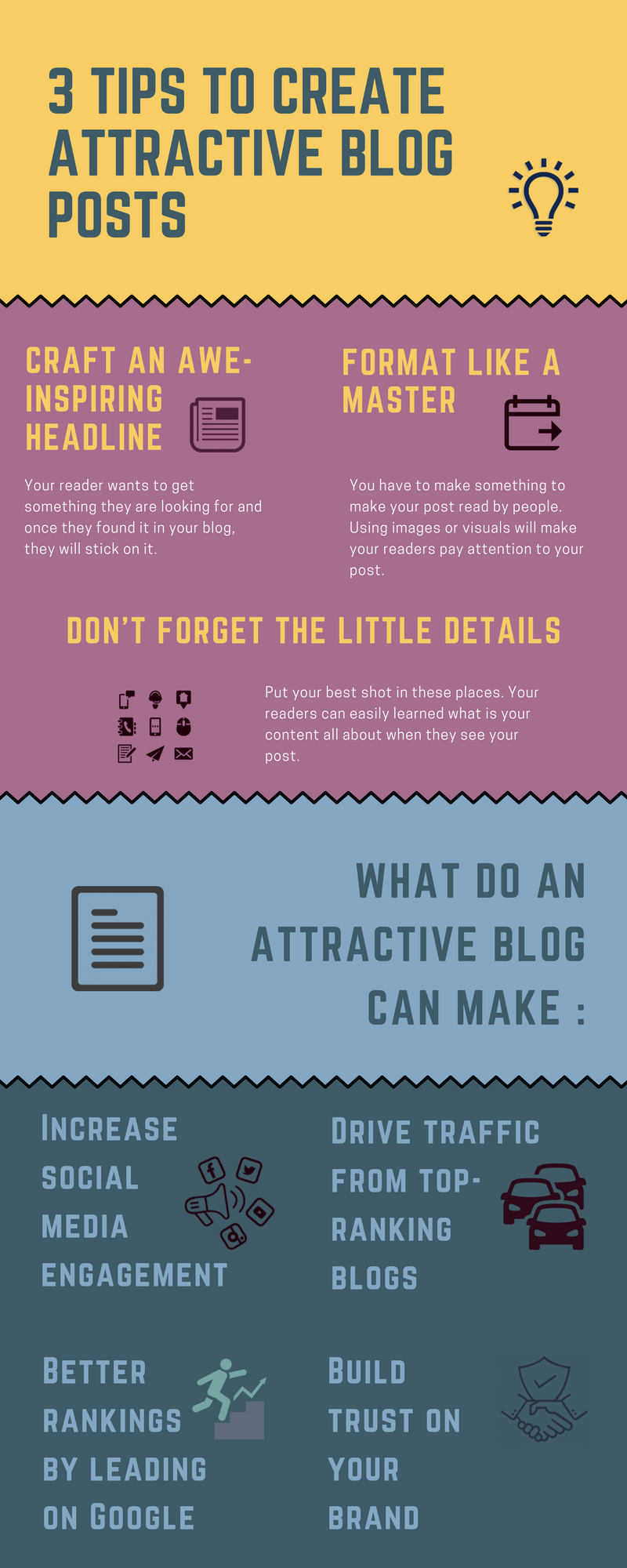 Craft an awe-inspiring headline
You need to have an awesome headline every reader will get. Your reader wants to get something they are looking for and once they found it in your blog, they will stick on it. The headlines educates viewers on how they benefit by reading the post.
Format like a master
Not all of your content is being read by your viewers even if they share your posts. Based on surveys, about 20% of shared content has been read. You have to make something to make your post read by people. Using images or visuals will make your readers pay attention to your post.
Don't forget the little details
It is very important to pay attention to some little details in your content. Your title, meta description and URL are just few places in your content to consider. Put your best shot in these places. Your readers can easily learned what is your content all about when they see your post.
Link to the article : http://contentmarketinginstitute.com/2017/02/attractive-blog-posts/
Looking for an easy way to write optimized SEO Content? Try Article Insights for free (no obligation).